Panthers Bounce Back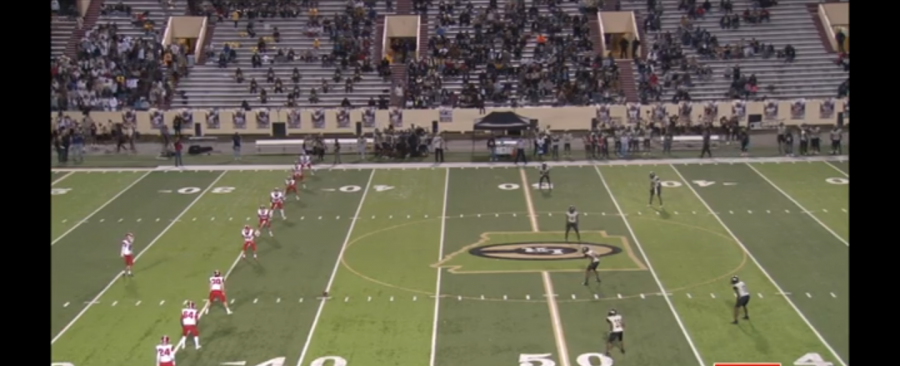 Last Friday, the Cabot Panthers took on the Little Rock Central Tigers with both teams looking to bounce back after hard losses. Cabot came off from a defeat at the hands of the Conway Wampus Cats while Central was defeated by the undefeated Bryant Hornets. 
The Panthers were flustered coming out of the gate as on the first play of the game a pass was intercepted and returned for a touchdown by Central's Ricky Westbrook. Cabot's offense would stall once again on the very next possession leading to a Tigers' rushing TD making the score 13-0 with just under 3 minutes left in the first quarter. Cabot's offense came to life thanks to Senior Running Back Graham Turner punching in an eight-yard rushing touchdown to put the Panthers on the board and make the score 13-7 going into the second quarter.
 Senior Logan Bell would then give the Panthers another rushing touchdown from 4 yards out giving the Panthers a 14-13 lead. Central would turn the ball over on downs and Cabot would capitalize as Junior Quarterback Tyler Gee would complete a 47-yard touchdown pass to Senior Wide Receiver De'Kairo Rudolph with 8 minutes to go in the second quarter to give the Panthers a 21-13 lead and a fury of momentum. Central would then have a pass intercepted by Senior Linebacker Preston Keahi although Cabot would be unable to capitalize. With just under 2 minutes left and trying to push the pace, the Tigers would fumble a reception and give Cabot great field possession. This would lead to a 24-yard field goal by Rhett Thurman to give the Panthers a 24-13 lead going into half time. 
The third quarter started with a bang as Gee connected with Rudolph once again giving the Panthers a 30-13 lead. Central would respond with a passing touchdown of their own making the score 30-21 at the end of the third quarter. The Panthers pulled away for good in the 4th as Gee connected with Rudolph for a third time and Senior Running Back Graham Turner punched in a 12-yard rushing touchdown to end the game. These two scores would make the final score 43-20 with the Cabot Panthers earning the victory over the Little Rock Central Tigers. The Panthers advance to 5-2 and take on the undefeated Bryant Hornets at home this Friday at 7 P.M.