Panthers in the Playoffs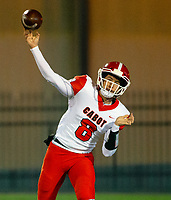 Tristan Bates, Staff Member
November 22, 2019
Last Friday, The Cabot Panthers took on the Fayetteville Bulldogs in the first round of the Arkansas 7A playoffs. Cabot traveled to Fayetteville after suffering a heartbreaking defeat to the North Little Rock Charging Wildcats. Fayetteville would strike first after a passing touchdown caught by Link Lindsey, making the score 7-0. Cabot would respond quickly though as Junior Quarterback Tyler Gee would find a wide-open Kyler Carmack for a 45-yard passing touchdown tying the score at seven.
 The Bulldogs would bounce back to start the second quarter thanks to a rushing touchdown, making the score 14-7. The Panthers offense would struggle to start the second half, and Fayetteville would capitalize adding another passing touchdown giving them a 21-7 lead. The Fayetteville Bulldogs would continue to gain momentum adding another passing touchdown extending their lead to 21 points. The Panthers, however, would finally get some more points on the board thanks to Senior Running Back Graham Turner punching in a rushing touchdown, making the score 28-14. Fayetteville got the momentum back adding another passing touchdown with just under two minutes left, giving them a 34-14 lead going into halftime.
The third quarter would be a defensive battle as both teams struggled to score any points. Fayetteville would eventually find a way into the endzone with a rushing touchdown with just under a minute left in the 3rd quarter. When the fourth quarter began the Bulldogs would have a 41-14 lead. Cabot would continue to struggle in the fourth quarter and the Bulldogs would convert a field goal to end the game 44-14. 
The Panthers finished the season with a record of 6-5 in Head Coach Scott Reed's first season at the helm. The Panthers will be looking to come back stronger next year and make a deep playoff run.