On Friday Sept.10, Sergeant Atkinson was named Hometown Hero. Sergeant Atkinson is a veteran who served in the United States Air Force for 23 years as active duty.
Sergeant Atkinson has worked for CSD for the past four years. He has been in charge of the AFJROTC, and he has helped many schools, including Southside Elementary School.
Southside's Principal Amy Morrow had nothing but praise for Sergeant Atkinson.
"He is an all around good guy along with an American Hero. Sergeant Atkinson has built Buddy Benches for us, he has run school pictures, and trained our student leadership flag crew. He is really just a part of our Southside family," Mrs. Morrow said.
Sergeant Atkinson isn't just popular with district employees, but with his JROTC Cadets as well. senior Jacob Hicks described Sergeant as being an amazing role model. 
"Sergeant Atkinson is a life saver, I have seen him change so many Cadet's lives, not only in ROTC but in their personal lives as well with his morals and integrity. Not only is he a great teacher, he's a great role model and blessing to the community," Hicks said.
Sergeant Atkinson is incredibly thankful for the recognition, "I feel that the community does an amazing job honoring veterans, I am extremely grateful that I was nominated for this honor  and would like to say thank you to everyone who played a role in granting this to me¨ he said.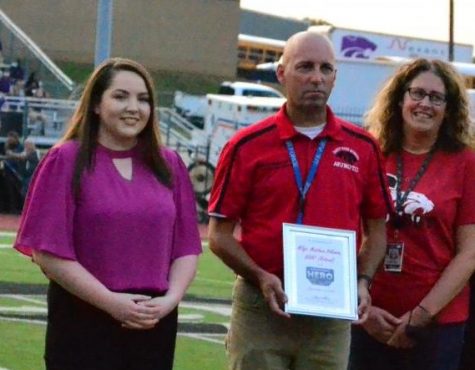 Photo by Kathryn Bland