Centennial Bank Bowl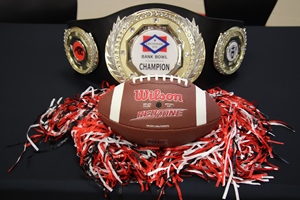 Last Friday, the Cabot Panthers took on the Conway Wampus Cats in the annual Centennial Bank Bowl, one of our fiercest rivalry games of the season. The Panthers entered the game with a 4-1 record coming off a homecoming win against Fort Smith Southside. The Wampus Cats entered the game at 3-2 after a hard loss to North Little Rock. Cabot started with the ball and drove the ball to the twenty-yard line before turning the ball over after a missed field goal. Conway took advantage by scoring on their first possession of the ball game thanks to a 5-yard touchdown run by Jamaal Bethune to give the Wampus Cats a 7-0 lead. The Panthers responded on the very next drive as Junior Quarterback Tyler Gee found Senior Wide Receiver De'Kairo Rudolph evening the score at 7. Conway would follow up with another rushing touchdown and a 39-yard field goal to make the score 17-7 going into the half. 
The Wampus Cats would receive the second-half kickoff and drive down the field to add a passing touchdown to their 10 point lead making the score 23-7. The Cabot offense stalled throughout the 3rd quarter but would wake up with 11 minutes to go in the 4th as Gee would find  Senior Tanner Wilson to give the Panthers life and make the score 13-23. Cabot would not convert on the two-point conversion and Conway would add another rushing touchdown with 9 minutes to go in the 4th. The Panthers would score again as time expired thanks to another touchdown pass this time from Gee to Junior Garrett Hill. The game ended with a Wampus Cats 30-20 victory over the Panthers. The Panthers after the tough loss are now 4-2 and will travel to take on Little Rock Central this Friday at 7 P.M.
Photo taken by Cabot Public Schools