Food Pantry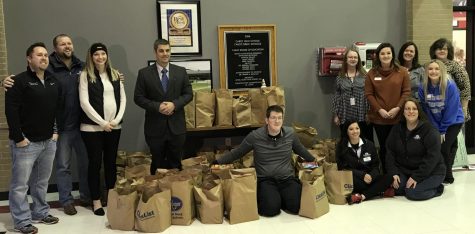 Holidays are filled with family and food. From traditions to going to a certain restaurant for dinner. Not all families are lucky enough to have food for the holidays. A special student decided to change that. Senior David Jenson decided to help a few families out, by bringing over 600 pounds of food into the school's pantry.
David states his reason for doing this all started with a poster. David sent a picture of the poster to his mom and then went to the pantry to see what was needed. David then made a list of the items that were not in the pantry and begun the journey of making sure he could help family be happy for the holidays. "We made a lot of trips to Walmart and Kroger in order for David to reach his happiness," David's Mom stated.
Starting in mid October, during parent teacher conferences, David started gathering foods to meet his goal. The process started with a "Porch food drive". David and his crew went door to door collecting food. 18 neighbors of the Jensen's family donated food. "David earned money by doing yard work. Each time he earned money we immediately went to the store," Mrs. Jensen said.
With the food David collected, over 600lbs was donated with an additional $550 from local businesses. David's reasoning behind this project was the thought of his classmates going hungry caused him to be upset. "I wanted to make sure none of my classmates go hungry, because we are made to help and that's what I did," David said. David and his mother stated they will continue to help as much as they can in order to make sure his classmates don't go hungry.