Cabot Panther Recap
Cabot Panther Recap
Cabot Panthers ended the 2020 football season 8-4, 4th in the 7A division and 7th in the State. Cabot Panthers also made it to the 2020 7A Semi-finals.  
"I knew we had the potential to make it as far as we did for sure, but it was an amazing experience to go that far," senior cornerback Houston Wiley expressed.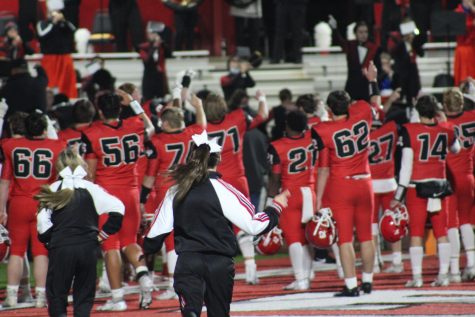 The Panthers started out holding an undefeated season for five games. Although they finally met their match when they played against Conway making the season 5-1. They lost again at Bryant, but made up for it when beating Northside. The team then lost another game but readily headed toward play-offs. Winning their first play-off game with a mercy rule, the Panthers then advanced to the second round. The Panthers, surprising everyone, beat the undefeated Bentonville Tigers. 
"My favorite part of the season was the Bentonville win in the playoffs because it was a very big win for us," Wiley Stated. Sadly, the Panthers Lost 49-42 to the North Little Rock Chargers in the semi-finals and are now done with the season. The Panthers may not have won the 7A State Championship, but they sure did win in their coaches eyes. 
 "Losing our spring practice, losing 7 on 7 summer practices and constantly losing athletes to close contact/positive results was very difficult but I was proud of the athletes/coaches/admin for working through it all and producing a winning season," Coach Brandon Jay stated. The team showed up/showed out and did it in all the hardships 2020 has caused. 
 "I think we grew as a program. We had some trying times with Covid and quarantines but the team was resilient and mature," Coach Coleman said. The Cabot football team has made everyone proud this season with how far they've come. For the seniors, though having an amazing season, it finally kicked in that they had just played their last game as a Cabot Panther. 
 "It doesn't last forever all good things must come to an end and it truly does, I never really knew that until I looked up at the clock last Friday and there were three seconds left in the game, and I just said to myself this is it I just played my last game my last snap and didn't regret any of it because I know everyone did their best," senior running back Jakob Parks expressed.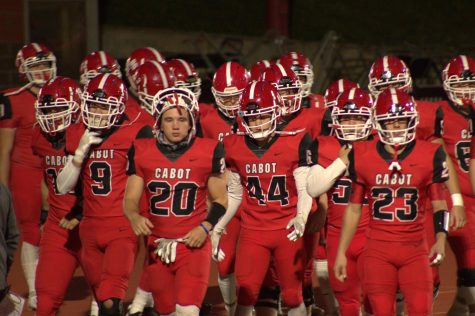 Though bittersweet, the coaches had some words to say to their senior boys, as the boys left the team to start the rest of their lives. 
 "I just want the seniors to know how much respect I have for them and how much enjoyment they brought to us in the face of adversity," football coach Rob Coleman said.
The coaches, hoping they learned something out of these past four years, showed a lot of gratitude to these boys and it is clear that they are going to miss them.  
"I would like to tell all the seniors thank you for all their hard work and leadership through this tough season and hope they learn a lot about dedication, perseverance, and teamwork," Coach Jay stated. The coaches are not the only ones who have something to say, the seniors also passed down some good advice to their younger teammates.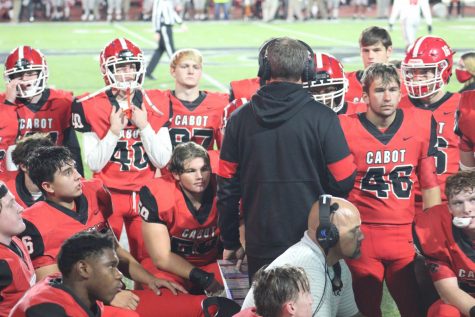 "One thing I would say is do not regret anything because it goes by so fast, it has been the best four years of my life," senior quarterback Tyler Gee stated.
"Give all you got, run every play like your life depends on it until the last whistle blows. Don't be that person that says, man we could've won if I did this or that, just trust in the process," Parks expressed.